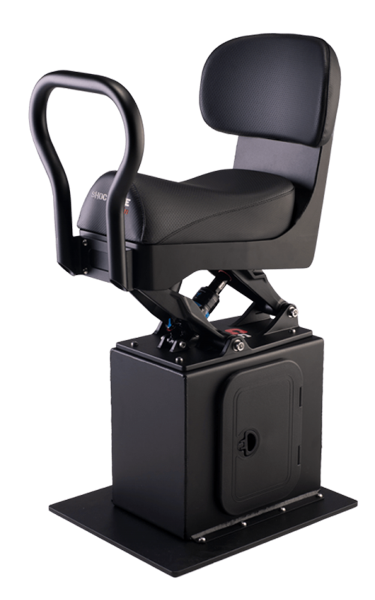 A cost-effective solution for commercial vessels and open RHIBs, the S5 is easily installed with simple rugged construction and minimal components. It absorbs wave shock and can contribute to preventing both high-impact and cumulative injury.
The SHOCKWAVE S5 Jockey Seat offers an integrated seat frame to minimize weight.  The shock absorber features adjustable firmness and rebound rate for any payload and sea condition. It comes with closed cell foam cushion, and heavy duty fabric, designed for both comfort and durability in extreme outdoor conditions. One of our most compact solutions, it's ideal for refits or custom builds.
Most popular accessories
Shock Pump
Most popular accessories
Jockey Front Handrail
Most popular accessories
Jockey Back Handrail
Most popular accessories
Riser Box with/without storage
SHOCKWAVE's Recreational Product line is best suited to boating applications such as fishing boats, coastal cruisers, ski/wake boats, guide boats, fisheries boats, whale watching boats, crew boats and yacht tenders.
This product is not available for purchase online. Please fill out this form or call 1.778.426.8545