KENAI's Vessel Impact and Motion Monitoring System (VIMMS™) is designed as a direct response to the maritime industry's requirement to monitor crew and vessel levels of shock and vibrations during operations.
VIMMS is a complete vessel and crew health monitoring solution designed to aid operators and program managers in monitoring, managing, and extending the health and wellbeing of both personnel and maritime assets. VIMMS is configured to support accelerational exposures to other critical components including; hull, electronics, and propulsion.
VIMMS is a continuation of existing and proven monitoring and crew tracking products from Dyena™ that have been used on offshore windfarm assets as well as commercial and military vessels for over four years.
SUBJECT MATTER EXPERTISE (SME) AND SOLUTIONS INCLUDE:
Real-Time Monitoring Provides Situational Awareness of Crew and Vessel
Autonomous Seat Sensing and Tracking (automatically logs individual time and exposure in seat)
Crew, Hull, Electronics and Propulsion Integrated Monitoring
Shock and Vibration Data Collection and Analysis
Finite Element Analysis (FEA) for Aluminum, Steel, and Composite hulls
Retrofit Kits for Major Shock Mitigating Seating Suppliers/Models
GSM (cellular) Real Time Data Transmission with NIST-compliant data security
Secure Online Portal and Servers for Operational/Program Platform
Secure Data Transmission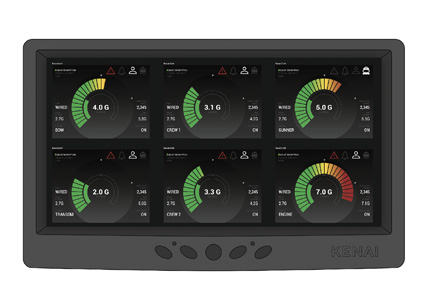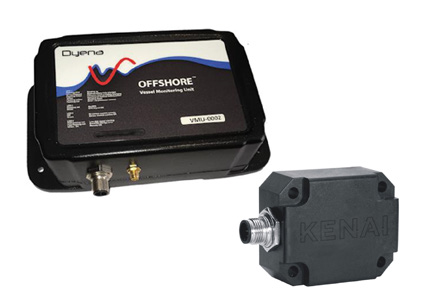 The display interface can be customized to the client requirements including, but not limited to:
General arrangement for particular vessel or asset
Customizable thresholds and limits
All or pre-selected locations displayed
Split screen for personnel and vessel exposure
Daylight readable display
Dimmable for night operations
Low profile panel
108mm x 64.8mm
IP67 protection
Vessel shock loads are sampled at 1000 Hz alongside optional GPS data and then filtered at 25 Hz to provide real-time situational awareness and vessel/crew health. Records are simultaneously recorded for the generation of reports on vessel use, impact forces, and crew exposure to shock and vibration.
For more information about KENAI visit www.kenaimonitoring. For sales inquiries or product information, contact [email protected] or +1.778.426.8545.