FEEL BETTER. TRAVEL FARTHER.
SHOCKWAVE S2 & S3
Helm & Crew Seats
The SHOCKWAVE S2 provides 6-inches of shock travel and can be installed onto a riser or storage box. Its low-profile design makes the S2 a great choice when space is limited or in an enclosed cabin.
The SHOCKWAVE S3 provides 8-inches of shock travel and can be installed with additional options, controls and a footrest mounted directly to the seat. The S3 is a perfect fit for RHIBs or cabin boats. These seats mount directly to the deck.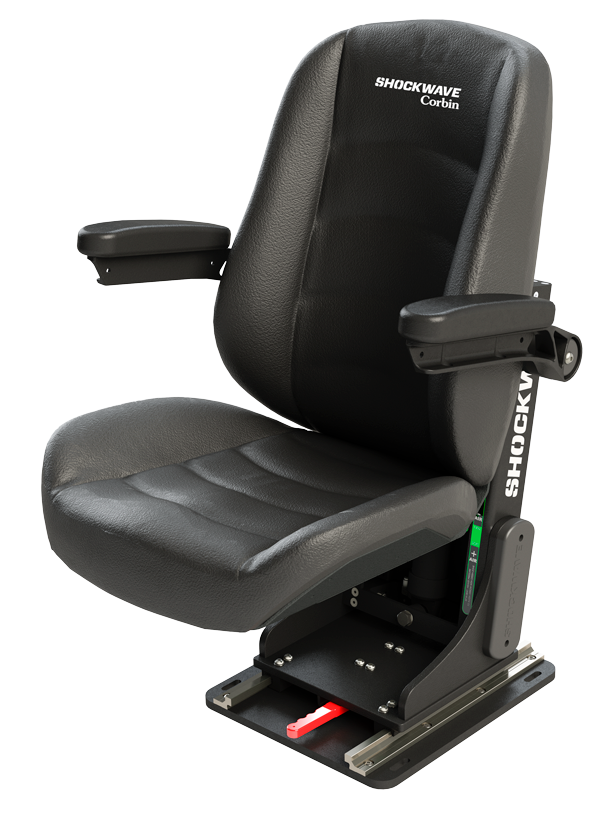 Our best-selling S2 Helm or Passenger Seat offers unparalleled ergonomics for comfort and performance.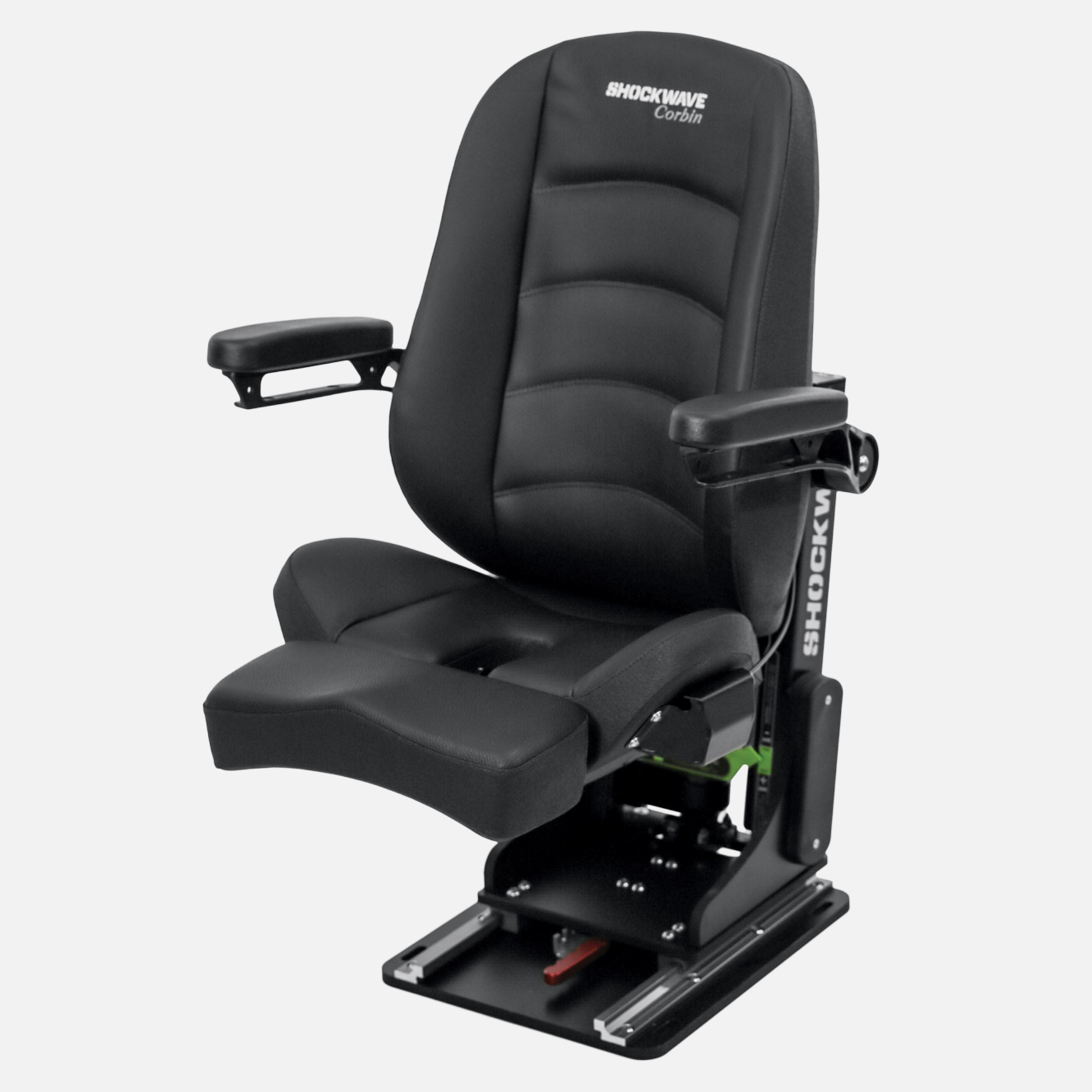 This seat offers a flip bolster, enabling occupants to sit or stand while providing superior ergonomics and performance.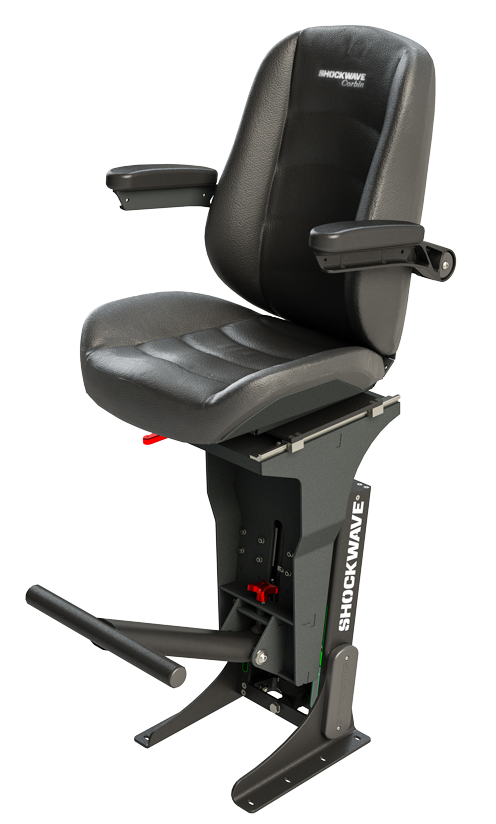 The S2 High Mount Seat is a direct replacement for traditional pedestal mount seats.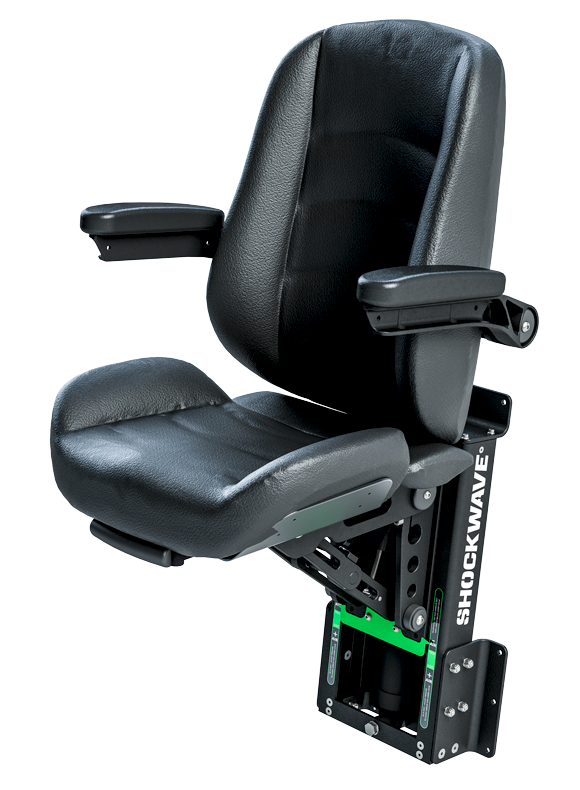 S2 Drop-Down Bulkhead Mount
This Drop-Down Bulkhead Mounted Seat allows the user to sit or stand while offering superior comfort in both positions.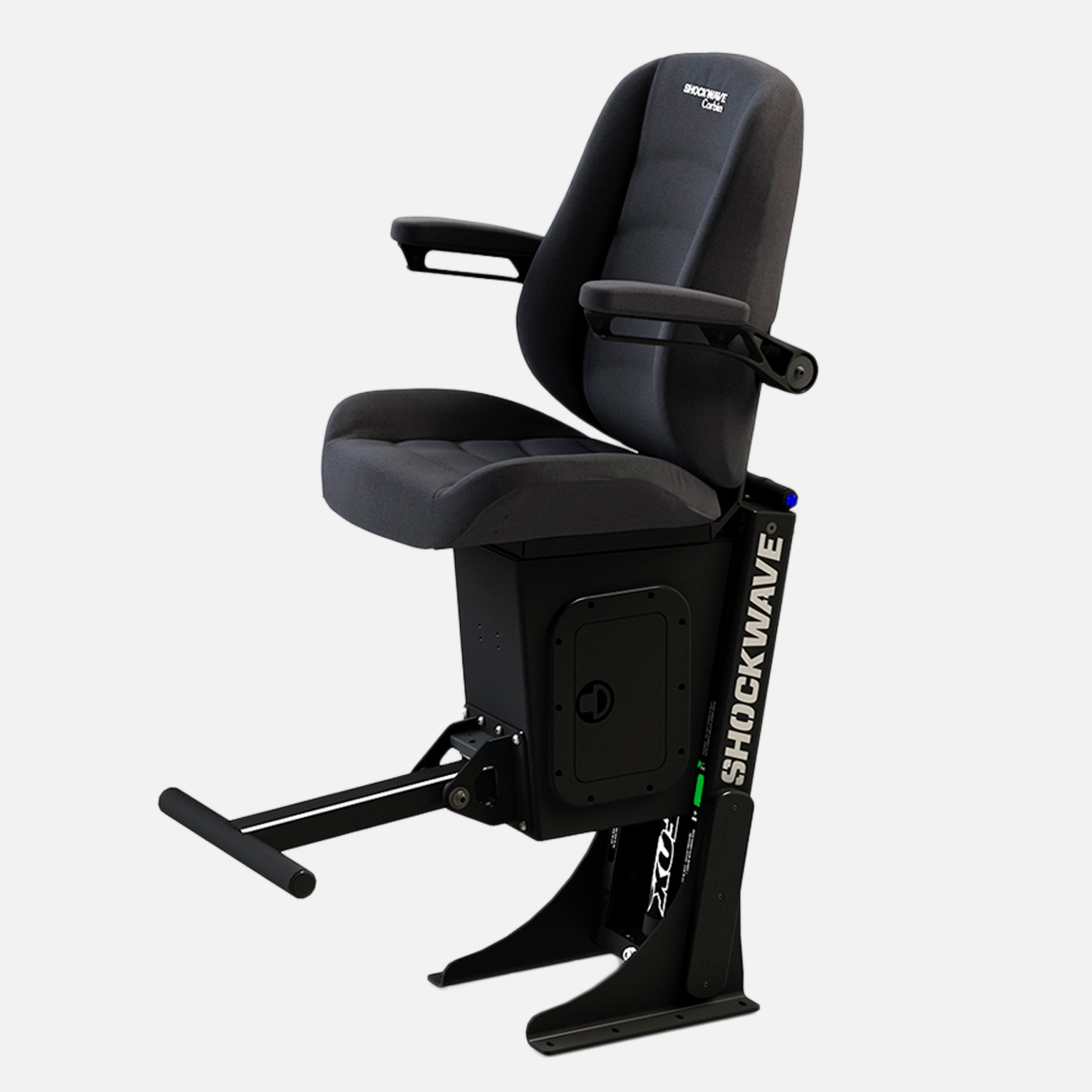 S3 Helm Seat with storage
Our comfortable S3 Helm or Passenger Seat paired with our performance-leading S3 Suspension;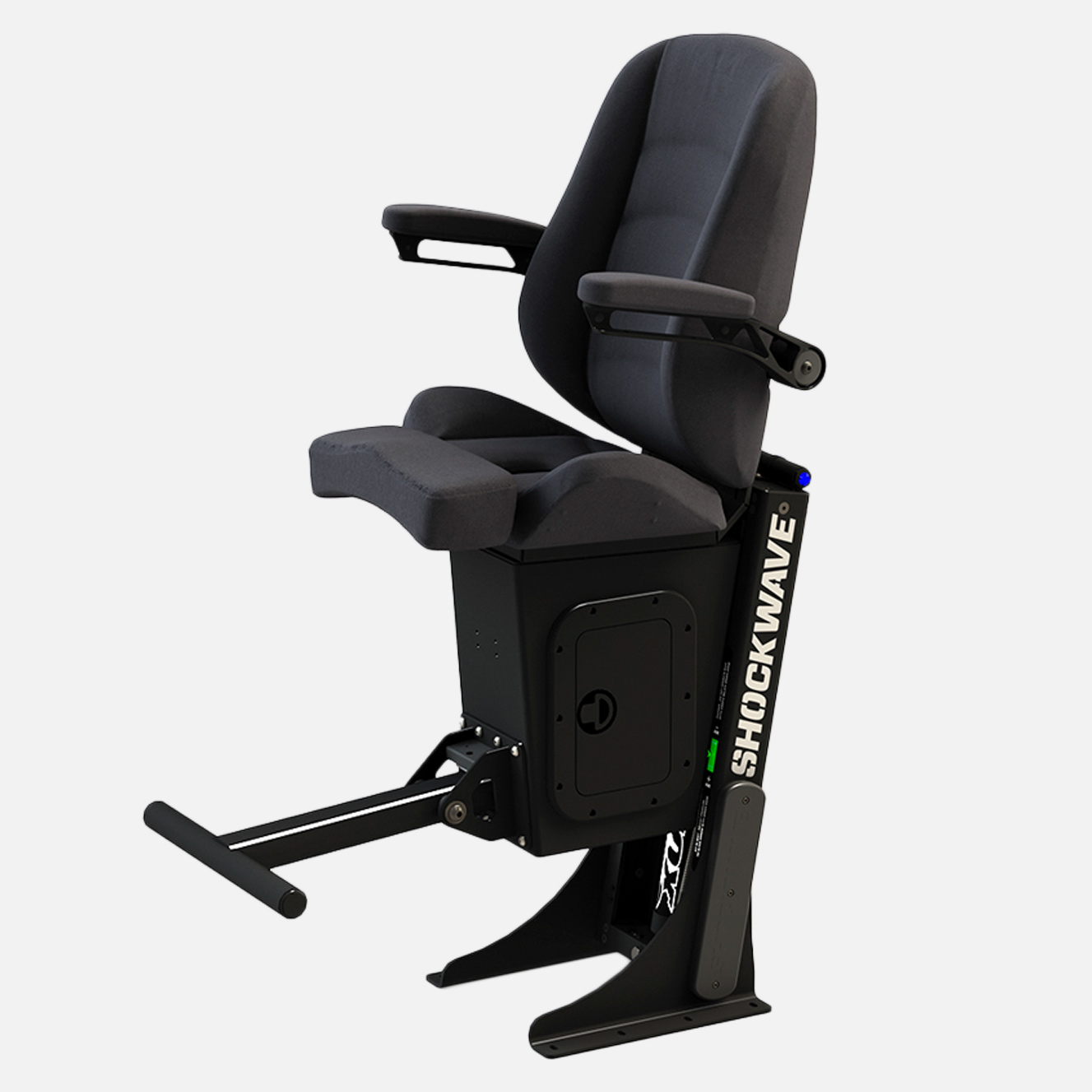 S3 Flip Bolster Seat with storage
This seat is a versatile Flip Up Bolster for seated or standing occupants, paired with our performance-leading S3 Suspension.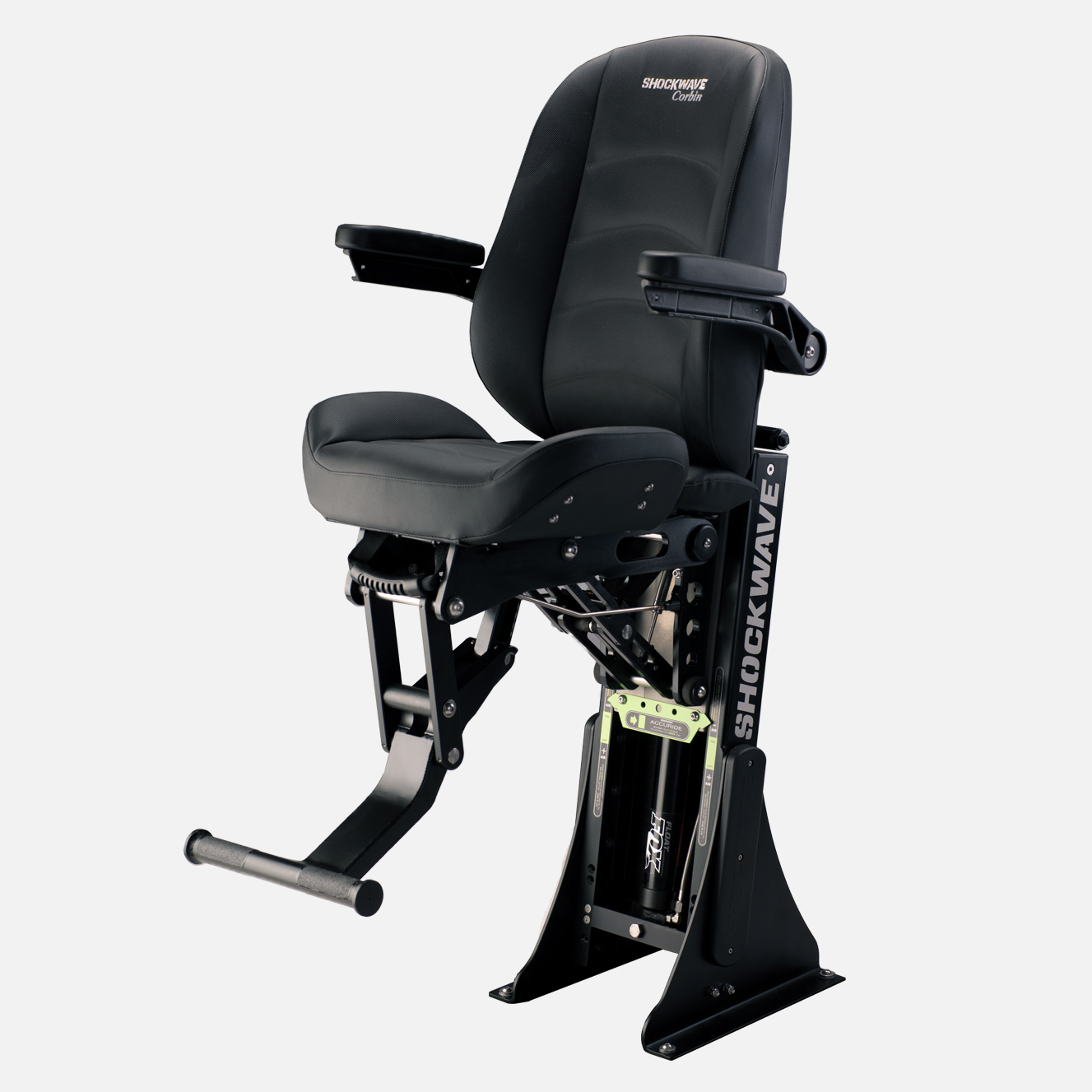 S3 Drop-Down Bolster Seat
The S3 Drop-Down Bolster is our most popular and versatile seat.

Quick release and
simple stowing functions

Seats can be customized and combined depending on mission or vessel requirements

Welded aluminum and stainless steel components

Form-fitting Corbin cushions
These seats are deployed in government agency, law enforcement and military vessels around the world. They increase occupant safety significantly when operating at moderate to high speeds in rough sea conditions.
We provide direct support in person, on the phone or over email as required or requested. We also have technical engineering support available to travel in person to help with installation training or other requirements as they arise. Real humans helping real people.
Testing under real-life conditions
To understand exactly how our products perform, we put them to the test in some of the toughest conditions on earth. In 2010, SHOCKWAVE president David Smith completed an 8000-mile journey using SHOCKWAVE technology. He took an 11-meter open-hull RIB from St. John's, Newfoundland, over Canada through the Arctic Circle and the Northwest Passage, around Alaska and back home to Victoria, BC.
COMPUTER DESIGN & STRUCTURAL VERIFICATION
While we test and measure our components and seats in related environments, we also use a number of other in-house analytic and testing methods to ensure absolute safety and ultimate performance.

We perform "Drop Testing" in house to verify component strength and suspension performance​

We use SolidWorks Simulation software to analyze millions of variables that may cause stress on the components and parts of all our products​

All major components are broken down for validation and tested individually

All of our products are
tested on the water​
Reach out to our sales team if you have any questions about this product.
Please fill out this form for an inquiry
or call 1.778.426.8545