CREW SAFETY THROUGH SHOCK MITIGATION
Search and Rescue case study
ApplicationProduct Featured
search and rescue
Product Featured
ICE1 –5-person
End User
Royal Canadian Marine Search and Rescue
Body Builder
Titan Boats – Victoria, BC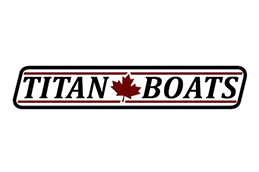 The Royal Canadian Marine Search and Rescue (RCMSAR) – a volunteer organization that operates 33 marine rescue stations on the British Columbia coast and in the province's interior – is on call 24 hours a day, 365 days a year, saving lives in benign and extreme weather conditions. Their motto: "We are the charity that saves lives on the water." RCMSAR personnel perform about 800 marine rescues every year, which is about one-third of all marine emergencies on the BC Coast. 
As a volunteer organization with roughly 1,000 members, RCMSAR is focused on the safety of their volunteers and those that they save on the water. 
"The Shockwave console reduces operator fatigue and improves the safety of our crews." Alistair Duncan, a member of the RCMSAR Procurement Team. "Reducing risk to our volunteer crews is critical." 
Experts from Titan Boats, Ltd. (Sidney, British Columbia, Canada), designers of SAR boats and other craft for applications such as patrol duties, police operations, firefighting, environmental missions, and commercial tourism and recreation, also say that reducing risk to rescue personnel is critical not only to safety but also to operator performance and fitness.
"When operating in heavy seas during rough weather, the boat operator can sustain continuous jarring impacts," says Andrew Lamb, Sales/Project Manager for Titan Boats "For some operators, such conditions mean that they can take weeks to recover from such pounding."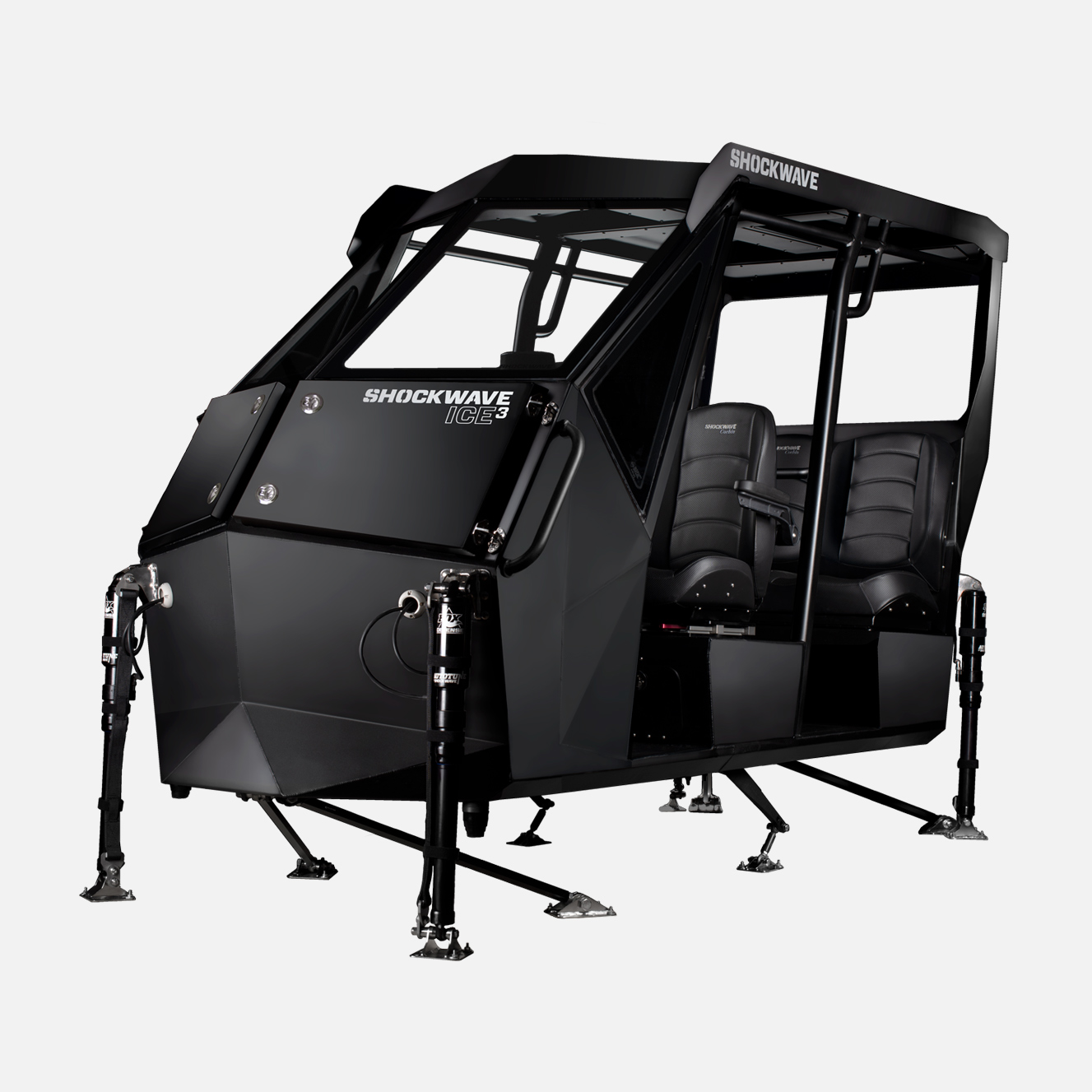 "The Shockwave console reduces operator fatigue and improves the safety of our crews."
– ALISTAIR DUNCAN Procurement Team, RCMSAR
To reduce the risk to their volunteer rescue crews, the RCMSAR Procurement Team needed a strong shock-mitigation solution; they found one with the ICE console from SHOCKWAVE Seats, Duncan says.
The SHOCKWAVE ICE – or Integrated Control Environment – supports occupants, electronics, and other key components of a vessel inside a single unit, with triple-axis suspension and military-grade material. It enables the RCMSAR team to travel farther and faster in comfort and safety while mitigating wave impact.
The enhanced safety doesn't just apply to the crew, but also to all the controls and electronics, which are also protected from jolts and impacts. The contained environment enables better communication between crew members, increases performance, and reduces fatigue on long missions.
While the SHOCKWAVE ICE has multiple standard configurations, each solution is customized to meet the unique needs of each client, their vessels, and their missions. All units are patented and made in Canada with triple-axis shock protection and can be amended from two to six seats with or without a roof. 
"Shockwave has been really good to work with, especially on customization and solving different challenges that may arise," Duncan says. "We have a good working relationship."
The SHOCKWAVE ICE has fully adjustable FOX racing shock absorbers located on each corner and a sway bar to limit roll. A feature known as AUTOTUNE provides a simple and effective way of adjusting the suspension on the ICE systems automatically: Users can adjust the spring rate to any payload with the flick of a switch, offering the ultimate riding experience. 
"The quality is there and the ICE consoles are just very well designed for what they have to do. It is the perfect solution to operator and crew fatigue –it takes fatigue away so that you're more effective in your job." Andrew Lamb Sales/Project Manager, Titan Boats
"RCMSAR chose Shockwave Seats' largest ICE console (that was available to us at the time) – the ICE1 five-person – as it fit our radar and configures well with our Type 1 boat," Duncan says. "Shockwave customized it for our application and we now have them on nine of our boats. The customization they added was to increase the sway bars in the later models, then they went back and retrofitted our older versions with the sway bars. Our Type 2 boats are also starting to use the Shockwave S5 suspension modules, and Commander seats."
The seats within the SHOCKWAVE ICE console, are customizable and are built with high-energy absorption, form-fitting Corbin design cushions, and robust, durable military-grade components. 
"The big thing with Shockwave Seats is quality. Their sales department wastes no time putting together a solution for you. It's always a pleasure dealing with Shockwave."
– ANDREW LAMB Sales/Project Manager, Titan Boats
SUCCESS: REDUCED FATIGUE & IMPROVED PERFORMANCE
Both operators at RCMSAR and boat makers at Titan agree that the SHOCKWAVE ICE console from Shockwave Seats reduces crew fatigue and improves performance.
"Typically our operators are on the water about two hours and when they are further up north, it can be as long as four or six hours," RCMSAR's Duncan says. "Regardless of time on the water, the shock and mitigation benefits of the Shockwave console reduces operator fatigue and improves the safety of our crews.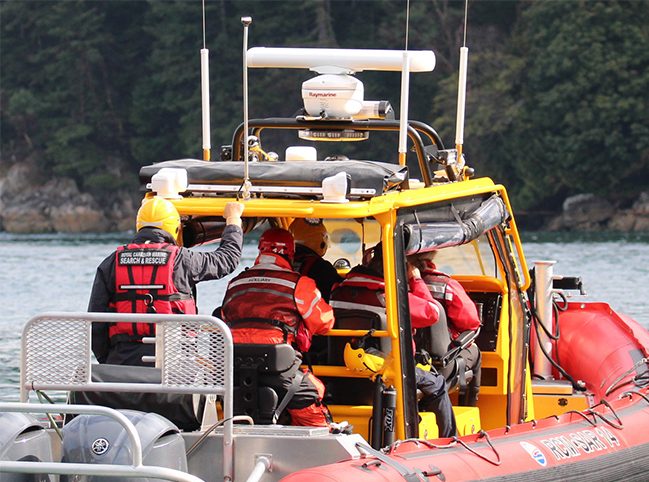 Lamb echoes Duncan's experience when he says: "I spent many years working for the Royal Canadian Mounted Police (RCMP) marine unit in the 1980s and there was no such thing as shock mitigation. It was rough on the body. The ICE console and seats completely removes that strain. By having the console and Shockwave seats on a boat the chance of physical harm or injury to the crew is greatly reduced. "
Reduced fatigue also resulted in improved performance, Duncan states: "Prior to the shock mitigation, the crew would have to physically stand up and hold a search light with one hand while holding on and keeping their balance with the other," Duncan says. "This can be fatiguing and also cause a searcher on the back deck to potentially lose concentration due to the throb of the engines. However, using a handheld light while seated in the shock-mitigating ICE console provides a smoother ride, reduces fatigue and improves focus resulting in a more thorough search."
Learn More About SHOCKWAVE ICE